Parke County, IN for Covered Bridges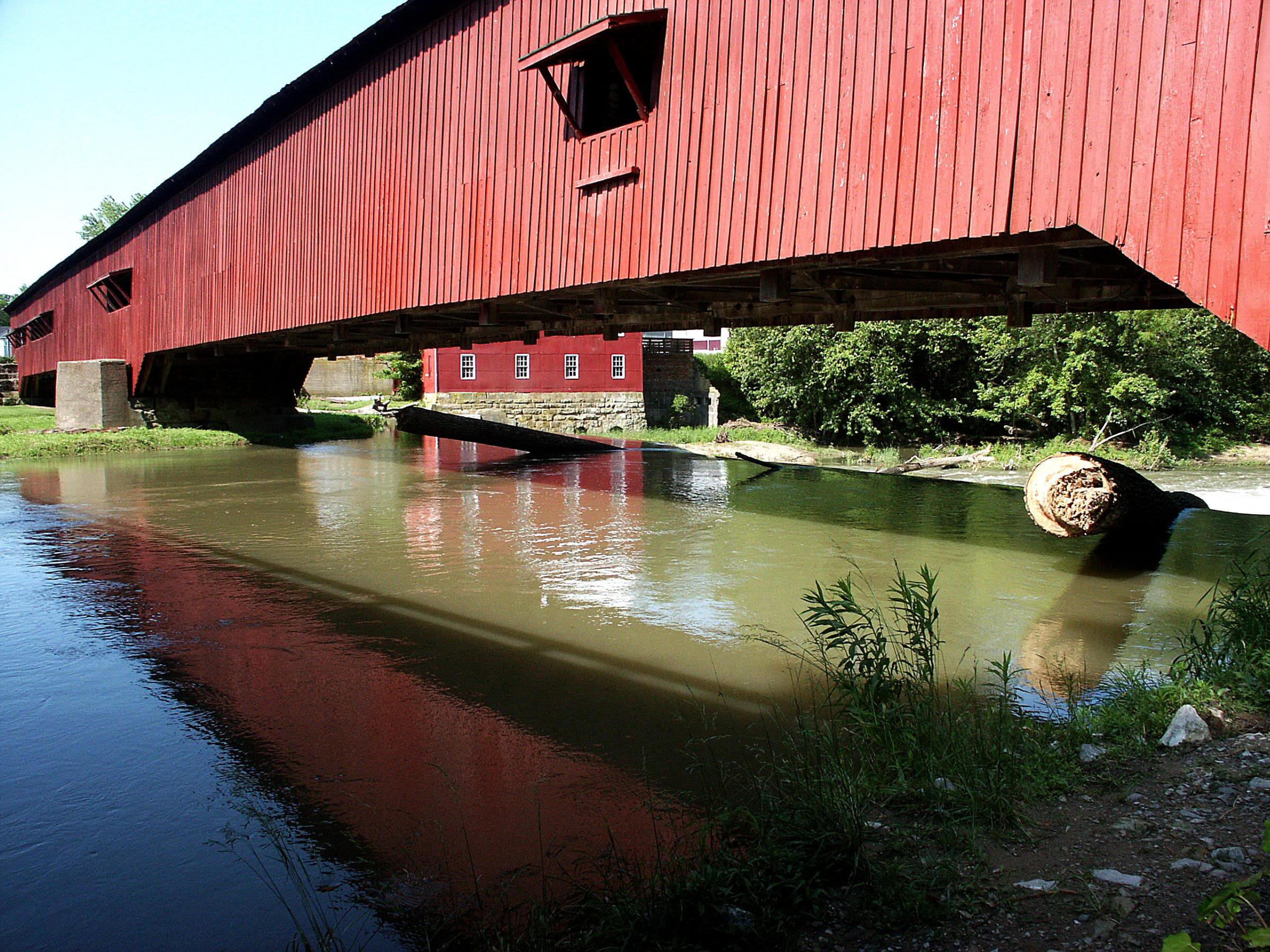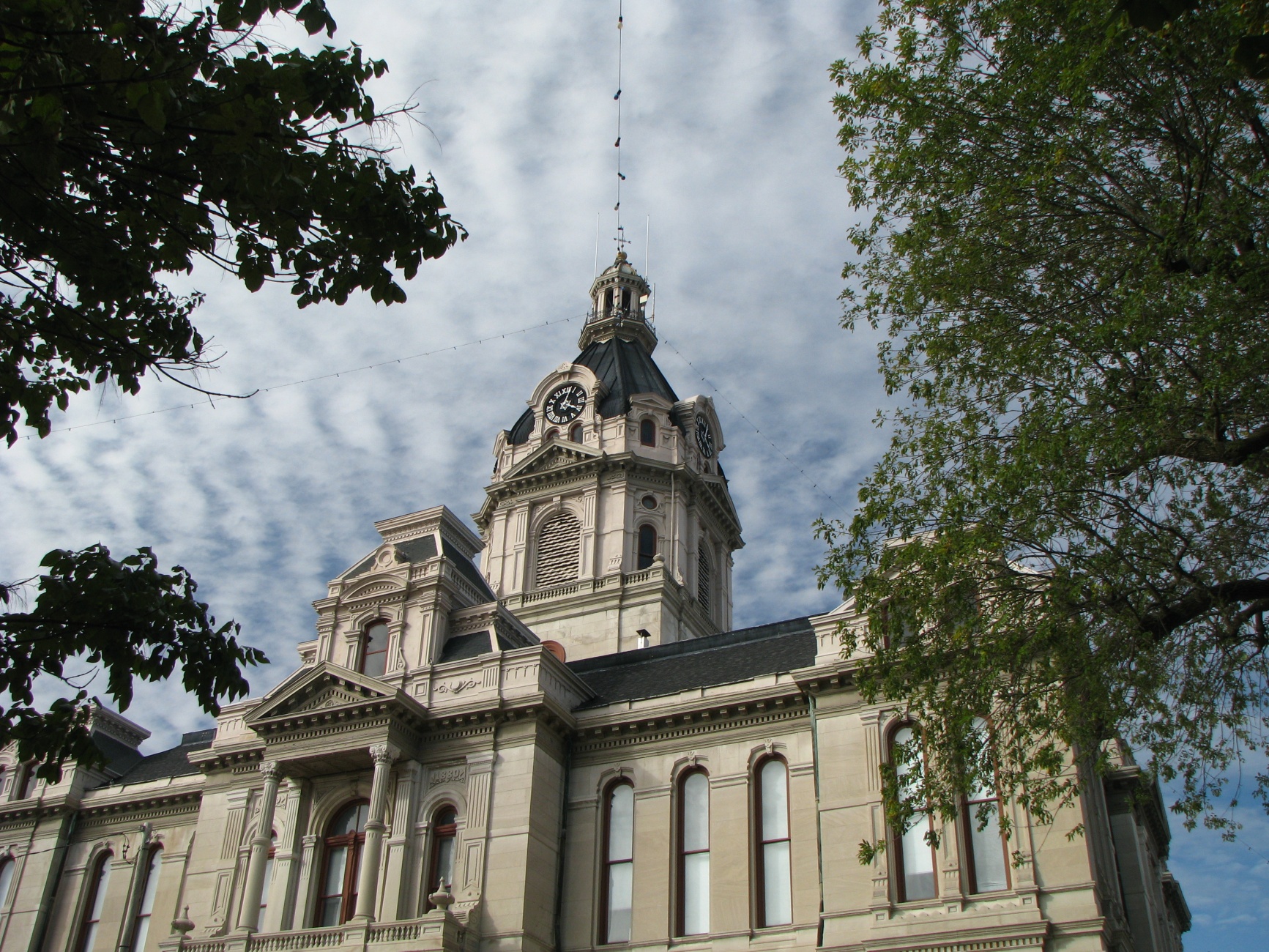 Why Go:
Parke County claims 32 covered bridges, the largest collection of covered bridges in the country. There is a 50 mile scenic drive which includes these bridges. In addition, you can relive America's past by visiting the county's many restored historic buildings and communities. Rockville is the main town and the county seat but visits to Montezuma, Bridgeton, Mansfield, Mecca, Rosedale, Bellmore, Tangier and Marshall add to the county's charm.
What you can do:
Your day trip focuses on seeing many
covered bridges
in the area as you take the 50 mile scenic drive through
Parke County
. This journey is described in detail in the "Specific Directions" below. Alternatively, a
color coded guide
to visit the County's covered bridges has been created and is available in Rockville at the Visitors Center, the Old Railroad Depot. There are Black, Brown, Blue, Yellow and Red Routes described which can serve as another guide to the covered bridges.
Each small town in the County has its charm but
Rockville
, the county seat, possesses a nice array of restored buildings with shops, antiques and galleries. Just 2 miles east of Rockville is
Billie Creek Village
, a turn of the century (19
th
to 20
th
century) village with historic buildings and three covered bridges. You can shuttle between Rockville and Billie Creek Village on a tractor that runs continuously during the day.  In Rockville there is the historic downtown square, national historic district, historical museum and Terre Vin Winery.
Visit the Rolling Mill and covered bridge in
Mansfield
and consider stopping at the Mill and covered bridge in
Bridgeton
. 
Montezuma
has the Reeder Park canal boat turning basin and canal route. Also in the County is
Turkey Run
,
Shades State Park
and Raccoon 
Recreation Area
.
Note that the
Parke County Covered Bridge Festival
starts the second Friday in October and runs for 10 days. If you are in the area this time of year, this is an event you won't want to miss.
Travel portion:
Rockville, the County Seat of Parke County is 67 miles west of Indianapolis on Rockville Road/US 36. Plan to drive for about an hour and a half.
Specific Directions:  From any of the recommended hotels, go to Washington St. and turn right. (west) Travel about 3.4 miles and veer right on Rockville Road (becomes US-36). Stay on this road for about 39 miles to reach Rockville. The
50 Miles Route
to see the covered bridges starts short of Rockville at the junction of IN-59 and US 36, at Bellmore, IN. You can continue into town and stop at the visitor's center and use the color coded guide to the covered bridges or follow the 50 Mile tour. For the tour, take a left on IN-59 and travel south about 6 miles to the
Mansfield Bridge
. Take a left at Mansfield/Mill Road a few hundred feet then turn right on Co. Rd 145 to the bridge.  From the bridge go east for a couple of hundred feet on Co Rd 145 and turn right on Co. Rd 775 E. In about a mile, turn left on Co Rd 720/Co Rd 22. Travel about 1000 feet and look for the
Big Rocky Fork Bridge
. Continue east on Co Rd 720/Co Rd 22 just over a mile and turn right on Fallen Rock Road. Fallen Rock Road will wind around south then west and turn into Co Rd 900 in a couple of miles. Follow Co Rd 900 west which turns into Hawkins Road.  At the end of Hawkins Road, in Bridgeton, turn right at the stop sign. This is Co Rd 107 and the
Bridgeton Covered Bridge
is on your left. After your visit to the bridge, reverse your direction on Co. Rd 107 southwest through Bridgeton. Pass the Cemetery about 1000 ft., the road forks. Stay left on High Banks Rd. In a couple of miles, High Banks Rd will Tee into Rosedale Road or Co Rd 8. Turn right and follow this road into Rosedale (now Co Rd 6).
At the stop sign, Main St. in Rosedale, turn right. Main St will become Coxville Rd and you want to stay on this just over 2 miles. Turn right on Co Rd 325W a few feet to the
Roseville-Coxville Covered Bridge
.  Continue on Co Rd 325W to
Harry Evans Covered Bridge
. About 750 ft. the road forks so veer left for Co Rd 325W.  After you visit this bridge, turn back on Co Rd 325W, past Roseville-Coxville Covered Bridge, to Coxville Rd and turn right. Go about 5½ miles into Mecca, IN. At the stop sign, turn right on Wabash St. and go about ½ mile to
Mecca Covered Bridge
. Back track to Mecca, IN to Coxville Rd. and turn right. Go another 2.5 miles and Coxville Rd will dead-end into Co Rd 600W. Take a right. In about ¾ of a mile, look for Co Rd 40N and turn right, just before the big two story house on the left.
Sim Smith Covered Bridge
is just over a mile down this road. From this bridge on Co Rd 40N tees into Co Rd 510W in just a few feet. Turn left and take this road to US 36. Take a left on US 36 heading west.
US 36 heads right into Montezuma, IN if you want to stop and see the Wabash River. Otherwise it is back to covered bridges.  About half a mile east of town (on your right as you come into town on US 36) is Strawberry Road, Co Rd 600 (a light grey metallic building, across the road, is the land mark). At the fork in the road, veer left for Co Rd 600. Travel just over 3 miles where the road tees into Co. Rd 58. Go right a few feet and then left on Tow Path Rd. Just over a mile is
West Union Covered Bridge
.
Back track towards Montezuma to Strawberry Rd on Co Rd 600 and turn left. If you reach US 36 you have gone too far.  Just under a mile on Strawberry Road is
Melcher Covered Bridge.
After your visit, continue on Strawberry Rd east into Rockville around 6 miles. Note, Strawberry Rd becomes Co Rd 25, Howard Ave in Rockville and Market St in downtown Rockville.
The last leg of the covered bridge journey takes you to Turkey Run State Park and the
Narrows Covered Bridge
. From Market Street and Ohio St (US 36) travel east three blocks to Erie St. Turn left (north) on Erie St and travel about 2000 feet to the stop sign. Turn right on Marshall Rd (E. Stark St) and follow it out of town. Travel on Marshall Rd just about 5 miles where it tees into Co Rd 450. Go right for about 500 feet and turn left back on Marshall Rd. This becomes Main Street in Marshall. Go north through Marshall past IN-47. Narrows Covered Bridge will be about half a mile on your left. From here, you can visit Turkey Run State Park or head back to Rockville for a little "small town" urban fun.
From Rockville to Indianapolis, travel east on US 36 all the way back to town. Remember, the road will be Rockville Rd and eventually Washington St. as you approach downtown Indianapolis.
Food options:
After breakfast in Indianapolis, plan for lunch in Rockville at either the
White Horse Café
or Thirty Six Saloon (they do allow smoking so beware). Drive back to Indianapolis for dinner.